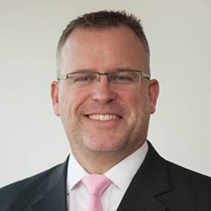 Chief Operating Officer
Terry joined Currax in 2019 as Chief Operating Officer. His expertise is in launching new companies focused on commercial operations and all aspects of Trade relations. He has over 20 years of pharmaceutical experience. Prior to Currax he was senior vice president and general manager of managed care and global trade & distribution at Horizon Pharma where he led teams responsible for the launch or relaunch of 9 medicines, global 3PL's, government and commercial payer pricing and contracting, order to cash, specialty pharmacy networks, trade and operations. In 2015 he also led, as general manager, the primary care business unit responsible for DUEXIS, VIMOVO and PENNSAID 2% where his team integrated new medicines, expanded both the sales force and direct to patient distribution model.
Prior to Horizon, Terry spent 13 years in the dermatology specialty pharmaceutical space with Graceway Pharma and Medicis Pharmaceuticals taking on roles of increasing responsibility through sales, training, marketing, managed care, trade, operations and general management. Terry is also a subject matter expert in direct to patient distribution, HUB services, pharmacy networks as well as the founder of UniteRx, a specialty physician dispensing company.
Terry has a Bachelor of Arts in Management and Human Relations from Trevecca Nazarene University in Nashville, TN.